Course details
October 【All-you-can-drink all-you-can-eat】 Salt fish's salt-grilling, tsukune skewers etc. 【Specialties! Taccarbie course】 3980 yen "All 9 items"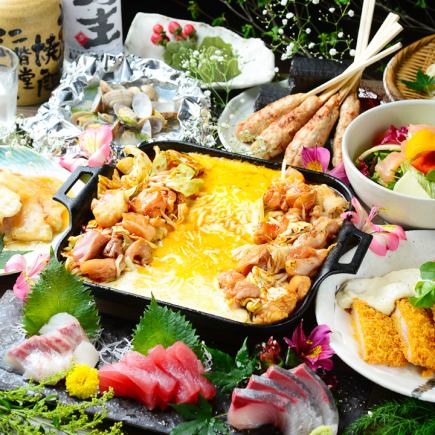 By using a coupon3980 yen
All-you-can-drink-inclusive (tax included)
All-you-can-drink available

2 hours all-you-can-drink (last order 30 minutes ago)
Available days for reservation

Monday - Sunday - Public holidays - Holidays
Recommended for party drinks with ¥ 3980! Includes plenty of charm of local chicken! Special basketball course! Boss's preeminent success! Mr. secretary must not want to fail! (Friday, Saturday and Sunday, all you can drink on the day before 2 It becomes time system)
Course menu
■ Sushi roll of salmon
■ Three fish sashimi of seasonal fish
■ Shakusaki Yam and Naniko's Japanese Salad
■ Okubu Mikawa chicken oil gonococcus
■ phantom hands knead meatball skewers
Salt grilled saury
■ Oku Mikawa Chicken Cheese Taccarbie
■ Late Champon
■ French toast
※ credit card not available
Yen Tasu2160, you can offer a message special pitcher parfait!
Please use to surprise to the guest of honor, such as birthday, farewell Mukaekai.
※ There is the case that the course content by buying situation is to change.Please note.
All-you-can-drink menu
·draft beer
· Draft beer, giraffe free
Shochu
Rock, whiskey and water, hot water allocation, Oolong split
· Hot sake 2 Go / cold sake 2 Go
· Recommended sake
Wine / whiskey
Red, white / lock whiskey and water, soda
·Cocktail
Cassis, peach, gin, vodka, Kahlua
- Zhuhai
Lemon, plum, grape, Oolong, Calpis
·plum wine
Rock, soda, hot water allocation, non-alcoholic plum wine
·Soft drink
- Oolong, orange juice, grapefruit juice, Calpis, grape
2018/10/07 update