Course details
"9. October" 【2h all you can drink】 Seafood sashimi, chicken skewers etc. 【Shuzo course】 3480 yen "All 8 items"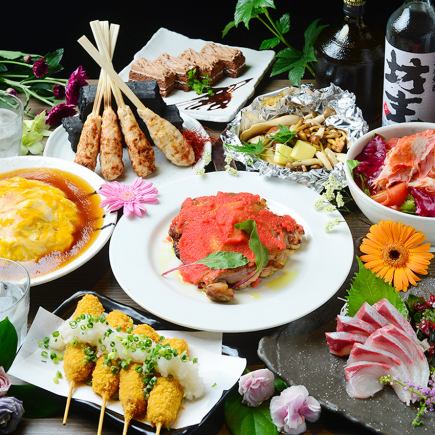 By using a coupon3480 yen
All-you-can-drink available

2 hours all-you-can-drink (last order 30 minutes ago)
Available days for reservation

Monday - Sunday - Public holidays - Holidays
All you can drink at 3480 yen, Recommended course for chicken chicken! It can be used not only for banquets but also for girls' sociations ♪
Course menu
■ Grilled chicken butter
■ seasonal fish sashimi
■ Beanfow's stick chicken salad
■ Chicken skewer cut
■ phantom hands knead meatball skewers
■ Okuta Mikawa chicken mentaiko garlic butter roasted
■ Tianjin chicken sauce rice
■ Maron cake
※ credit card not available
Yen Tasu2160, you can offer a message special pitcher parfait!
Please use to surprise to the guest of honor, such as birthday, farewell Mukaekai.
※ There is the case that the course content by buying situation is to change.Please note.t
All-you-can-drink menu
·draft beer
·draft beer
Shochu
· Rock, water split, hot water split, oolong split
· Hot sake 2 Go
· Recommended sake
- Cold sake 2 Go
· Recommended sake
·Cocktail
Cassis, peach, gin, vodka, Kahlua
· Chuuhai
Lemon, plum, grape, oolong, Calpis, lychee
·plum wine
· Plum wine rock, soda dish, hot water split
·Soft drink
- Oolong, orange juice, grapefruit juice, Calpis
2018/09/07 update